Imagine permanently getting rid of your trouble spots!
Yes, those trouble spots that you have been trying to diet and exercise away!  UltraShape is the latest and greatest technology proven to work for you with no pain, down time, heat, cold or invasive procedures.  The good news is that you can begin to see results in as little as 2-6 weeks with just three short sessions!
What is UltraShape Power?
UltraShape Power is the first and only FDA Approved non-surgical procedure that uses pulsed, focused ultrasound for fat cell destruction.  This high powered device painlessly destroys fat cells without harming surrounding skin, nerves, or blood vessels.
Unlike other fat reduction procedures, UltraShape Power treatments are virtually painless and leave you free of any unwanted visible side effects.  All you are left with is smooth contoured results.  You can even head to the beach in your bikini right after the treatment!
Fusion Med Spa is the premier UltraShape Provider in Naperville and surrounding Western Suburbs!  We use only the most advanced technology to get you the BEST body contouring results!
The Science Behind the Fat Blasting!
While diet and exercise can help reduce fat, some subcutaneous fat can be very stubborn and difficult to lose despite all of your hard efforts.  UltraShape Power delivers Ultrasound energy directly into the stubborn fat below the skins surface.  Rapidly changing pressure waves cause the targeted fat cells to rupture.  The fat cells are destroyed permanently, releasing  contents into the lymphatics and processed by the liver and eliminated naturally.  UltraShape Power's fat cell destruction, when combined with a healthy lifestyle can deliver the body you have worked hard for.  We also offer complementary treatments like Venus Legacy that help to enhance fat reduction as well as to also tighten skin and smooth cellulite!
Benefits of UltraShape Power:
Elminate Stubborn Fat that's resistant to diet and exercise!
Destroy Targeted Fat Cells Permanently!
No Visible Side Effects & Absolutely No Downtime!
Virtually Painless!
Highest Percent of fat cell destruction over any other treatment like Coolsculpting or SculptSure!
What to expect from yout UltraShape Power Treatment!
UltraShape Power is a non-invasive treatment with NO incisions, NO anesthetics and NO recovery period!  Plus it really works!  After an initial consultation and assessment, our clinician will recommend a treatment program that best fits your needs.  A typical regimen consists of three treatments spaced two weeks apart but we can always customize to an individual's needs!  Most treatments are under an hour depending on the size of the area treated!  There is no soreness or numbness after treatments and no dangerous side effects.  Our clients love the quick and painless results that they get.
What Areas Can Be treated with UltraShape?
Stomach
Love Handles
Inner & Outer Thighs
Front & Back of Thighs
Arms
Bra Line
There are so many options with UltraShape!  If you can pinch an inch we can probably treat it!
What is an UltraShape Treatment Like?
A typical UltraShape treatment is between 30-60 minutes, and depends on the size of the area to be treated.  Clients relax on a treatment table while the UltraShape treatment head is moved around the area!  The treatment is painless and in most cases there are no visible signs of treatment.  Normal actives may be resumed after treatment!
How Does UltraShape Work?
Watch this video to see how the UltraShape Treatment targets stubborn fat deposits!
UltraShape Delivers Focused, Pulsed Ultrasound that selectively destroys fat without harming the surrounding tissues.  The body's own metabolic processes safely clear away the destroyed fat cells and debris just like weight loss.  The only difference is these cells are permanently destroyed exactly where you want results!
Check Out The Amazing UltraShape Results
Lose 1-2 sizes in 4-6 weeks with an UltraShape Series!   Permanent Fat Reduction with No Pain and No Downtime!
UltraShape can help blast your trouble spots!  Reduce you trouble spots with this Breakthrough Technology!
Permanent Fat Reduction Results Documented by Ultrasound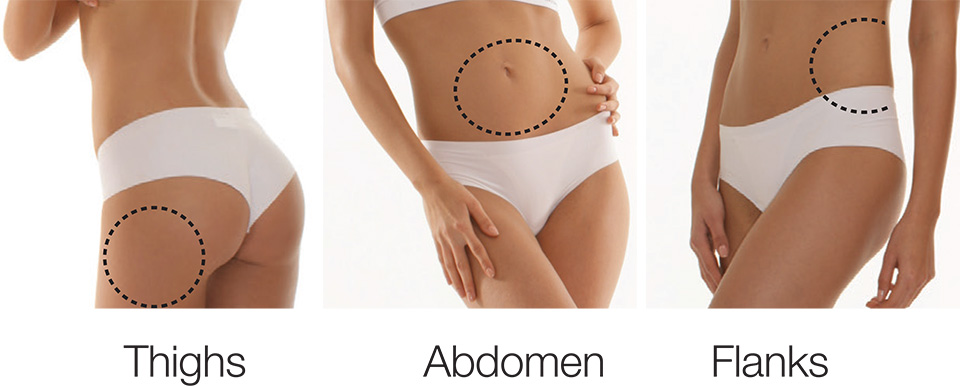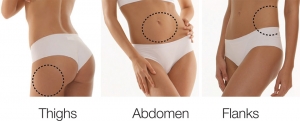 Why UltraShape is the best non surgical way to permanently get Rid of Fat
UltraShape is the best choice for permanent, non surgical fat reduction.  There are just so many reasons why!
Non-invasive
Permanent Fat Cell Destruction
Painless
Treatments only take 30-60 minutes
Only 3 treatments spaced 2 weeks apart
Safe & Effective
Results in as soon as 2-6 weeks
FDA cleared for Permanent Fat Cell Destruction
No heat or freezing involved
No Downtime
No visible signs of treatment
Combine UltraShape Power with other Treatments for enhanced Results!
At Fusion Med Spa we offer other treatments and weight loss programs that can enhance the results of UltraShape!  Create a whole new you in 4-6 weeks without surgery!  UltraShape does a great job at reducing fat deposits, but many clients also have loose skin concerns.  The Venus Legacy Body Contouring and Skin tightening treatment is a great adjunct to the UltraShape!
Coolsculpting Vs UltraShape
Coolsculpting has become a very popular fat reduction treatment over the last few years.  UltraShape is a newer fat blasting technology that doesn't come with the same risks as Coolsculpting and it allows for a more customized fat reduction treatment.  Check out the difference s between Coolsculpting and UltraShape.  We love UltraShape Power and you will too.  We have many clients that have done cool sculpting come to us to even out the fat pockets and improve appearance.  Coolsculpting has been popular in the past but newer less painful treatments like UltraShape and Emsculpt are taking over.  UltraShape actually blast more fat than Coolsculpting, and without pain or downtime.  UltraShape is the hands down simmer over UltraShape in our book.  Call us today to learn how we can contour your body with UltraShape fat reduction.
Call Us today at 630-717-5760 to find out about Our Current UtraShape Package Specials!